Released April 2005, produced in Studio Freiton, Lustenau.
Godfather: Reinhard Franz.
Album of the year 2005
The studio album "on track" was chosen by the Austrian Association for Country Music (ACMF, Austrian Country Music Federation) as the album of the year 2005. At the same time, our singer Micah received the award "Singer of the Year 2005″from the same association. We are very proud of this award and are delighted that it will reward the hard work even more.
Cover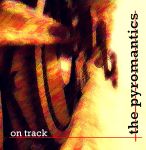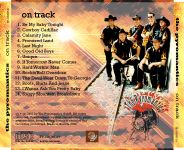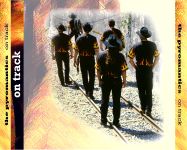 Inhalt
Be My Baby Tonight (Hill E./Fagan R.)
Cowboy Cadillac (Kennedy B./Brooks G.)
Calamity Jane (Gmeiner S./Friesli W./Dietrich M.)
Promised Land (Berry C.)
Last Night (Fritsch A.)
Good Old Boys (Fleetwood A.)
Unique (Stein M.)
If Tomorrow Never Comes (Blazy K./Brooks G.)
Hard Workin' Man (Dunn R.)
Rock'n'Roll Overdose (Fritsch A.)
The Devil Went Down To Georgia (Daniels C./Edwards F./Marshall J./Hayward C./Crain T./DiGregorio T.)
Boots, Shirts And Jeans (Stein M.)
I Wanna Ask You Pretty Baby (Gonzalez W./Strauss K.)
Foggy Mountain Breakdown (Scruggs E.)
Booklet (extract)