Micah Aguirre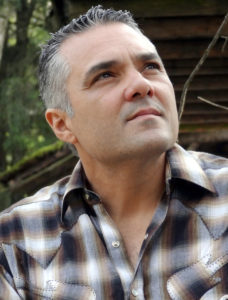 Pyromantics: Main vocals
Micah Aguirre, born in San Diego, USA, was brought to Austria by love. Here he got to know the Pyromantics, which he joined in 2001. He quickly became the absolute darling of the audience. His fantastic voice, the American mother tongue and his charm make the Pyromantics something very special. He also looks very good – at least that's what the ladies say.
With Micah at the microphone, the Pyromantics quickly developed into one of the most sought-after country bands from Zurich to Vienna, from Stuttgart+Munich to South Tyrol. Six times he has been honoured with the award "Singer of the Year" by the members of the ACMF (many thanks for that!). Micah simply enjoys being on stage with the Pyromantics and offering a great, high quality show that will thrill the audience.
Year of construction: 1973
Residence: Dornbirn
Place of birth: Oceanside (near San Diego), California, USA
Profession: carpenter and plumber
Private: Single
Hobbies: Family, singing, mountain biking, hiking, snowboarding, surfing
Favourite group: Randy Travis, George Strait, Garth Brooks, Alan Jackson, Brooks and Dunn, Elvis
Awards of the ACMF (Austrian Country Music Federation):
Singer of the Year 2017
Singer of the year 2014
Singer of the Year 2011
Singer of the Year 2010
Singer of the Year 2006
Singer of the Year 2005
Music biography: Singing in the shower; since November 2001 lead singer with The Pyromantics.