The DVD "video tracks" was produced in 2006/2007 and was ceremonially christened and celebrated in March 2007 at the Kolpinghaus Dornbirn on two sold-out concert evenings. The DVD is currently only available directly from "The Pyromantics". Please contact us by e-mail.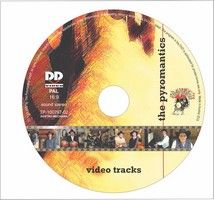 We would like to thank the team of Mylonas Filmproduktion for their excellent work under the direction of Niko Mylonas. Without the special commitment of Niko and his team, this project would never have worked.
Furthermore, we would like to thank artist and graphic artist Wolfgang Tschallener, who has succeeded in creating a wonderful design of the DVD "video tracks" based on the design of our award-winning album "on track".
In addition to the 5 video clips for your own songs, the DVD contains a lot of bonus material:
Making of (approx. 30 minutes) with interviews,"spoiled" scenes (so-called outtakes) to laugh and lots of impressions of the many shooting days.
Furthermore there are film recordings of the interview from January 2006 in the studio of Radio Arabella in full length (approx. 20 minutes).
As an add-on we have attached a photo series with music for the performance at the international country festival in Haag/Hausruck (Upper Austria).